ABOUT US
Guangzhou Geosurv Information Technology Co., Ltd
Guangzhou Geosurv Information Technology Co., Ltd is a professional company specialized in high accuracy surveying, measuring and monitoring solutions, especially focusing on providing practical, cost effective and innovative monitoring solutions for geotechnical engineering.
Sold to Countries&Regions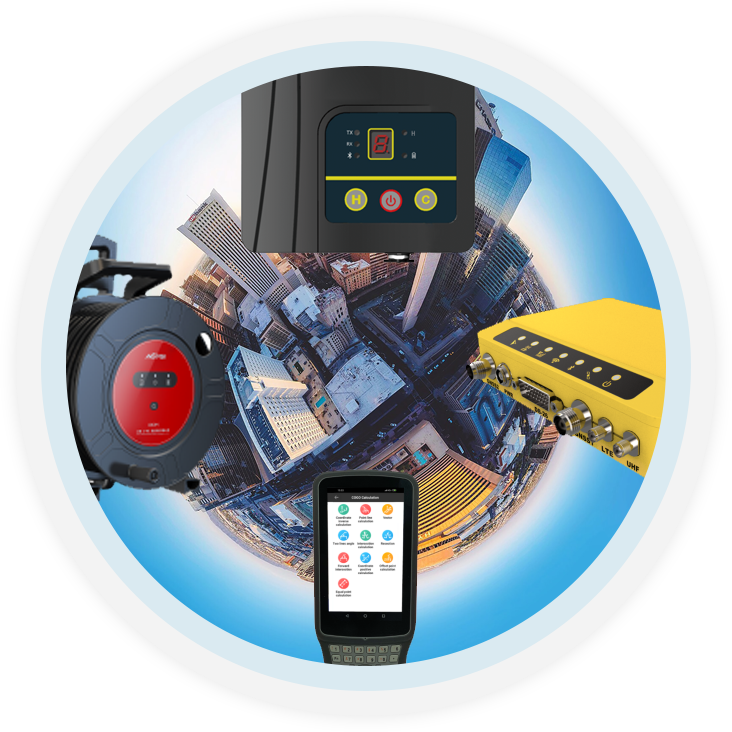 Offers trustworthy, cutting-edge GNSS survey solutions that satisfy the specific needs of surveyors and GIS experts

State-of-the-art monitoring instrumentation for geotechnical engineering to provide reliable, smart and comprehensive solution
Cost-effective total station for land survey, construction and topographic applications. 

The new generation professional Android data controller completely functionalities complied with all GINTEC GNSS receivers

More Affordable and Easy-to-use Data Transfer Solution

Simple yet powerful filed data collection software for surveying and mapping runs on all Android devices
Geodetic and precise GNSS measurements make the exact knowledge of the reception characteristics of the used GNSS antennas and therefore a calibration necessary. With the pursuit of high precision of products, GINTEC entrusted the third party, GeoService GmbH, to do antenna calibration on G20M(New) and G30, corresponding to the certification name GING20M NONE and GING30 NONE. Robot-based Geo++R-GNPCV Real-Time Calibration is applied to get absolute GNPCV Type Mean. Absolute PCV acquired contain the following characteristics: absolute 3D offsets, absolute PCV, PCV from 0° to 90° elevation, elevation and azimuth dependent PCV, free of any multipath influence. The resulting PCV are completely independent from the used reference antenna and allow the complete modeling of the receivi...

Krithi Engineering, GINTEC's exclusive distributor, moved to its own new office building recently. Krithi Engineering established in 2016, located in Hyderabad, has achieved a remarkable position in surveying industry. GINTEC has cooperated with Krithi Engineering since 2021. The sales volume of G20, G20M, and G30 has achieved aconsiderable amount in India through Krithi Engineering.Adhering to the concept of "Based on Integrity, Success in Quality", GINTEC dedicates to providing high-quality and competitive products to customers. In the future, GINTEC will continue long-term cooperation with Krithi Engineering. GINTEC will continuously move forward to upgrade GINTEC products in order to enhance users' experience. We will grow up and make progress with our partners together. In addition, GINTEC her...

On 25th, April, 2022, GINTEC organized a team building activity of hiking. Very glad to see that COVID-19 pandemic in Guangzhou has passed, and we can continue to serve our customers as usual. Although there are recent rises of various materials cost, GINTEC has no plan for adjusting prices in the first half of year, and will offer our customers goods steadily. __________________________________________________________________________________________________________________________________...